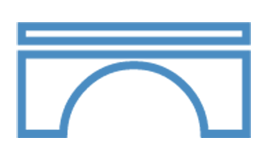 Services provided by the Structural Department include:
Environmental structure design, including wastewater and water treatment plants, pumping stations and water storage facilities
Transportation structure design, including highway bridges, culverts, retaining walls, pedestrian bridges and sign structures
Municipal structure design, including administration, public works, maintenance garage and bulk storage buildings
Drainage and marine structures design, including spillways, headwalls, seawalls and boat docks
Environmental, transportation, municipal, drainage and marine structures inspection, evaluation, and preparation of condition reports with rehabilitation recommendations
Construction services assistance, including submittal review, interpretation of design documents, resolution of construction issues and inspection
Code compliance review of designs prepared by others
Bridge Inspection Services
Baxter & Woodman provides a comprehensive list of bridge inspection services. Our structural department includes multiple NBIS-certified Program Managers who are also licensed Structural Engineers, and we serve numerous local agencies throughout northern Illinois and southern Wisconsin performing routine, special feature, and fracture-critical bridge inspections. We take our services a step further by providing repair and maintenance recommendations, long-term planning, and funding applications.
Beyond highway bridge inspection, we also inspect a wide array of pedestrian bridges for other agencies. We inspect and inventory a large system of trail bridges for both the McHenry County Conservation District and the Fox Valley Park District, some of which own and maintain bridges over 100 years of age.
Baxter & Woodman also incorporates drone technology into our bridge inspections. With experienced drone pilots and high-resolution cameras, we can view areas on structures that could not otherwise be accessed. For example, our drone flight captured this bent connection plate along the top truss chord (pictured on the left).
I want to take a minute to tell you all a great big THANK You! We made it to a major milestone last week when we completed the NSP portion of the big demolition project – four blighted commercial buildings and 10 blighted homes all demolished. We could not have gotten it done without the sustained effort of everyone.
Director of Economic Development & Planning