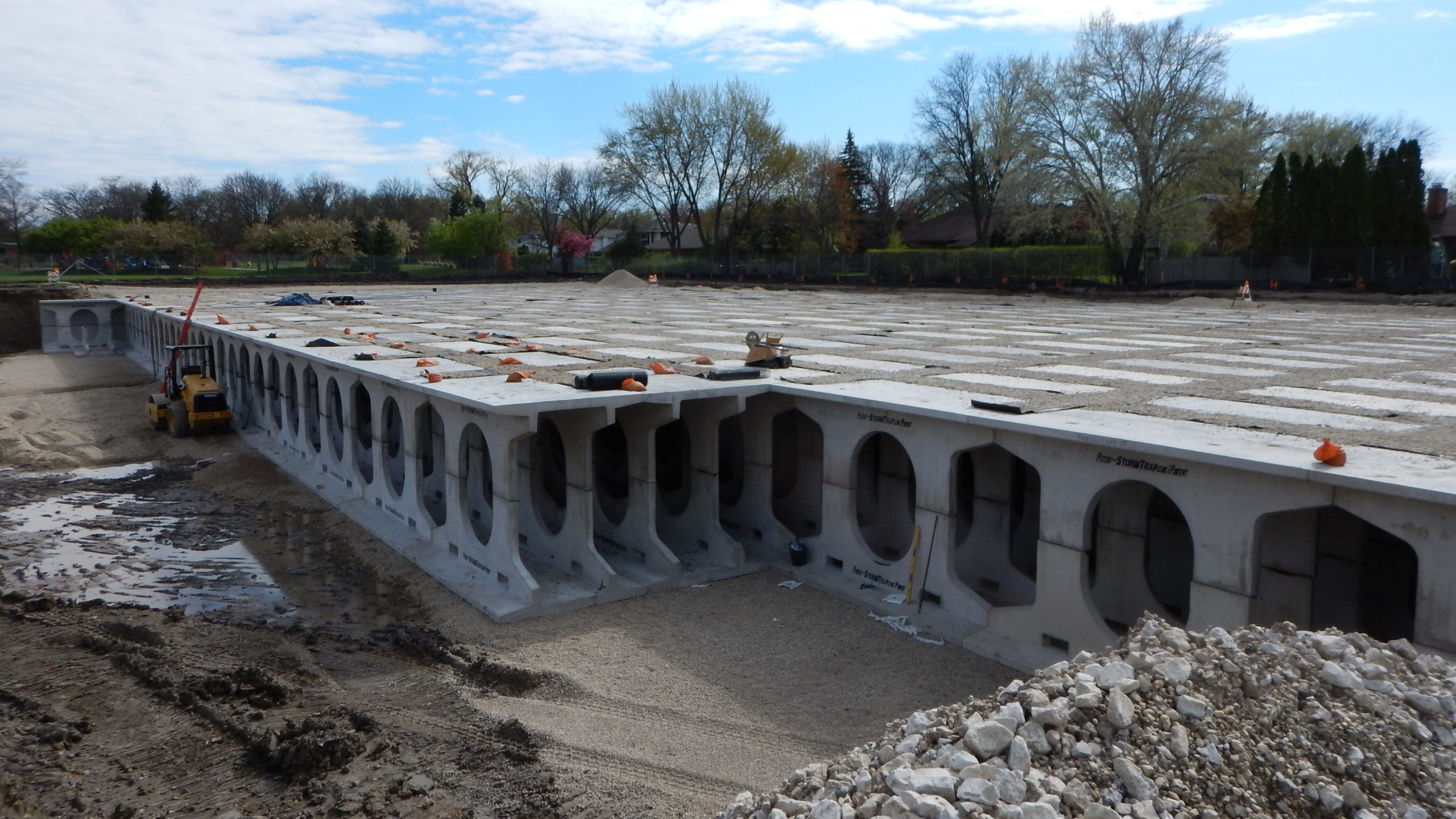 Wescott Park Stormwater Storage
Baxter & Woodman completed a detailed study of the conceptual Wescott Park detention project included in the Village's Master Plan. Detailed hydrologic and hydraulic modeling was prepared and several design alternates were evaluated, including above ground, below ground, and hybrid detention configurations.
Following the study phase, Baxter & Woodman provided final engineering design, highlighted by a 23.7 ac-ft StormTrap underground stormwater storage facility, approximately 1,100 feet of proposed mainline storm sewer ranging from 42" to 54" in diameter, roadway reconstruction along the proposed sewer route, and restoration and improvement of Wescott Park. Additionally, storm sewer inlet capacity was increased within the project limits to reduce street flooding and fully utilize available storm sewer capacity. A series of four structurally designed junction chambers were added to equalize flow between the proposed mainline storm sewer and the parallel existing 42" storm sewer along Farnsworth Lane.
A low flow weir and restrictor manhole were included to direct low flows into the underground storage facility while limiting discharges to the downstream storm sewer. Halloran & Yauch, Inc. designed an irrigation system to water the restored north ballfield in Wescott Park. During final design, Baxter & Woodman helped the Village secure $475,000 in green infrastructure funding from MWRDGC to cover the incremental cost of adding a rainwater harvesting system to the project. Baxter & Woodman worked with Wahaso Harvesting Solutions to design a system which filters, stores, and sanitizes stormwater before pumping it to the irrigation system.
The project was featured in the APWA Reporter magazine.
The Wescott Park StormTrap facility provides the largest volume of stormwater storage of all StormTrap systems currently in existence.
Location
Village of Northbrook IL
Recognition
ACEC IL Engineering Excellence Special Achievement Award

ASCE IL Outstanding Civil Engineering Achievement

Storm Water Solutions Magazine Top Storm Water & Erosion Control Project

Friends of the Chicago River Green Ribbon Award