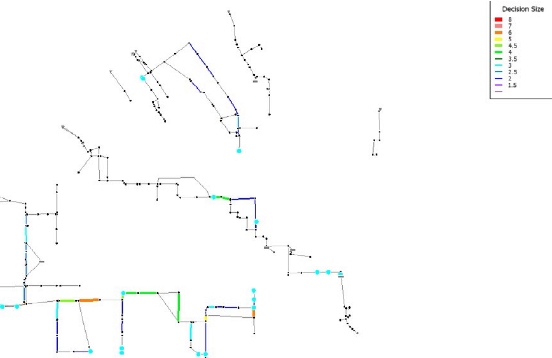 South Side Stormwater Study
The City of Belvidere has experienced frequent, long-term flooding and stormwater drainage issues in several locations on the south side of the Kishwaukee River. The City retained Baxter & Woodman to study the existing stormwater infrastructure within the south side of the City and develop a conceptual plan for system improvements. Baxter & Woodman developed an existing conditions hydrologic and hydraulic model covering nine of the City's south side drainage basins for the purpose of evaluating existing and proposed conditions.
While several stormwater drainage studies have previously been completed in different areas of the south side, this study consisted of a more comprehensive analysis. Baxter & Woodman developed and analyzed several alternatives for improving stormwater drainage system performance. These alternatives included storm sewer system improvements, new storage basins, upsizing existing detention basins, and improving overland flow routes.
Alternatives were evaluated both individually and in combination at each problem area. Optimatics' Optimization software was used to enhance and support engineering input and design decisions for alternatives development. "Optimizer" software is a cloud-based optimizations software that is used with the hydraulics and hydrology model to determine the most effective way to improve a system. Optimizer was programmed to evaluate conveyance, storage, and surface drainage options by weighing each option against performance and cost. Optimizer's analyzed each option within constraints that were input to account for site limitations such as available pipe cover, maximum pipe depth due to outfall conditions, and available footprints for storage facilities. The software analyzed hundreds of planning options, and displayed the options that give the best results while minimizing capital and operating costs.
The conceptual improvement plan is designed to provide flood protection during the 100-year, critical duration storm event. The plan includes a combination of increased storm sewer system conveyance, stormwater storage, and improved overland flow routes.
SERVICES:
• XPSWMM Modeling
• Optimization Modeling
• Conveyance and Storage
REFERENCE:
Brent Anderson
Director of Public Works
City of Belvidere
401 Whitney Blvd. Suite 200
Belvidere, IL 61008
Phone: 815-544-9256
Email: banderson@ci.belvidere.il.us
Location
City of Belvedere, IL
Project Data
2018