Master Thoroughfare Plan
In response to the steady migration of people moving northward from the Houston metropolitan region into the rural regions in Montgomery County, Baxter & Woodman assisted the City of Magnolia with an update of the City's Master Thoroughfare Plan. This plan represents a critical element in managing trip generation amidst the City's rapid growth and development, as new residential and non-residential developments require new thoroughfares to provide access while reducing congestion on existing City streets.
Over the past four to five years, the City has witnessed an impressive surge in population, with 13 active residential and non-residential developments underway; with an additional 1,800 new single-family homes, 40 new retail, commercial, and industrial developments, and over 1,000 multi-family units proposed within the City limits; and plans to expand 5,000 single-family homes in the extraterritorial jurisdiction – all of which will result in significant population and employment-related trip generation. Depending on additional development infill on the existing vacant properties, by 2040, the community could reach and exceed a population of 60,000 in the City limits and extraterritorial jurisdiction.
Baxter & Woodman evaluated existing thoroughfare networks for pavement condition, lane, and right-of-way width before comparing the roadway networks to the proposed roadway expansion projects in the region. Over 70% of the existing roadways within the subdivisions have been identified as too narrow for solid waste service, on-street parking, and turning movements for larger vehicles in non-residential areas, and many of the developments outside the Magnolia area were not factored into the size of the roadway system in Magnolia. Baxter & Woodman recommended increasing the right-of-way width for all new collectors and local roadways as new developments are underway.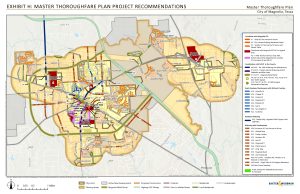 Location
Magnolia, TX
Services
Transportation Planning Unified Development Code Review Public Outreach with Interactive Engagement Survey Facilitation with Community Groups