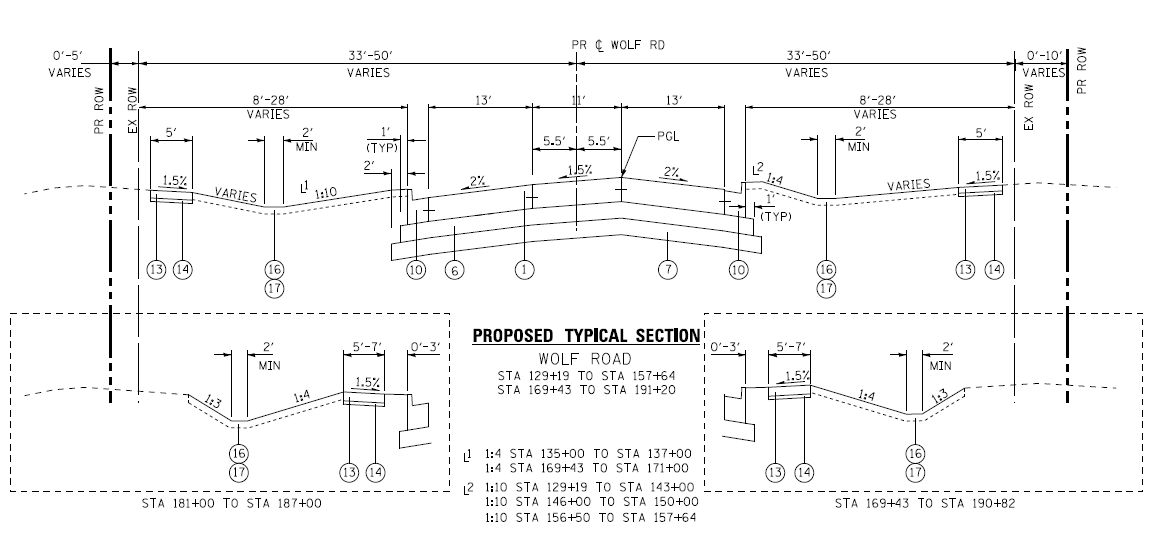 Illinois Department of Transportation Wolf Road Phase II Reconstruction
Baxter & Woodman originally designed the Wolf Road improvements in the early 2000s, which included widening the pavement to provide one 13-foot-wide through-lane in each direction and an 11-foot bidirectional left turn lane, a closed drainage system with curb and gutter which was oversized to provide stormwater detention, new traffic signal installation at the intersection of Strong Road and Wolf Road, traffic signal modifications and intersection improvements at IL 68 (Dundee Road) and Wolf Road, sidewalk along both sides of Wolf Road, and water main replacement at various locations along Wolf Road. The project was not built due to lack of funding.
In 2012, IDOT retained Baxter & Woodman to re-design the project as a roadway reconstruction instead of the original widening and resurfacing design. The most significant design update was to the typical section and roadway design due to the change to reconstruction. Design changes also included updating traffic signals to current standards and updated MOT plans because the signal is on a large east-west interconnect which needed to be maintained for smooth traffic flow.
Additional environmental coordination was required due to the expiration of the previous coordination completed over 10 years ago. A PESA, which was completed in December 2011, located 19 areas of recognized environmental conditions (RECs). Baxter & Woodman completed the PESA response forms to ultimately determine the impact via a Preliminary Site Investigation (PSI).
Maintenance of traffic was significantly impacted by the re-design so detailed MOT staging plans were included.
Re-design of the $12M project was completed in 2020.
Location
Cook County, IL