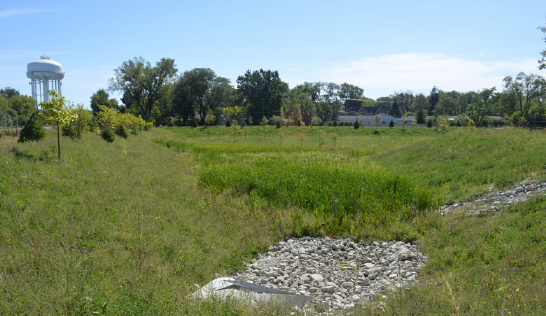 Dewes Henley Harlem Road and Storm Sewer Improvements
Baxter & Woodman provided design and construction engineering and helped the Village secure a Hazard Mitigation Grant from FEMA for $2,784,000. This grant made it possible for the Village to construct an approximately 13 acre-foot detention basin and 4,650 feet of storm sewer ranging from 12" to 48" in diameter. The pond was designed and then restored with aesthetic and sustainable wetland seed mixes, new trees both surrounding the pond and within, and decorative fences as selected by the Village and the adjacent Glenview United Methodist Church.
To provide additional regional storm water detention and conveyance, a 48" storm sewer was designed and installed alongside the existing trunk sewer. The new storm sewer was hydraulically connected at many locations to the existing storm sewers. In addition, storm sewer inlet capacity was improved within the project limits to further reduce street flooding. To increase capacity, double and even triple inlets were installed at all low points and flood prone areas.
This $8.1 million project also included complete replacement of the water main distribution system within the project limits to improve water service and fire flows in the area. Henley Street, Elm Street, and Dewes Street were fully reconstructed. Sidewalks were repaired, including replacement of all curb ramps to meet current ADA standards.
Location
Village of Glenview, IL
Recognition
APWA Project of the Year